Mary Fisher Dining Center
Stronger Communities Make for Stronger Individuals
The spirit of community is powerful, and now, the Mary Fisher Hall and Dining Center is situated both at the physical and symbolic heart of our campus. Not underestimating the power of a shared meal, the new dining hall satisfies students' craving for various food and social interaction. New space for the Office of Student Engagement, student government offices, and the Counseling Center centralizes our efforts to provide for the entire community's mental, emotional, and social well-being.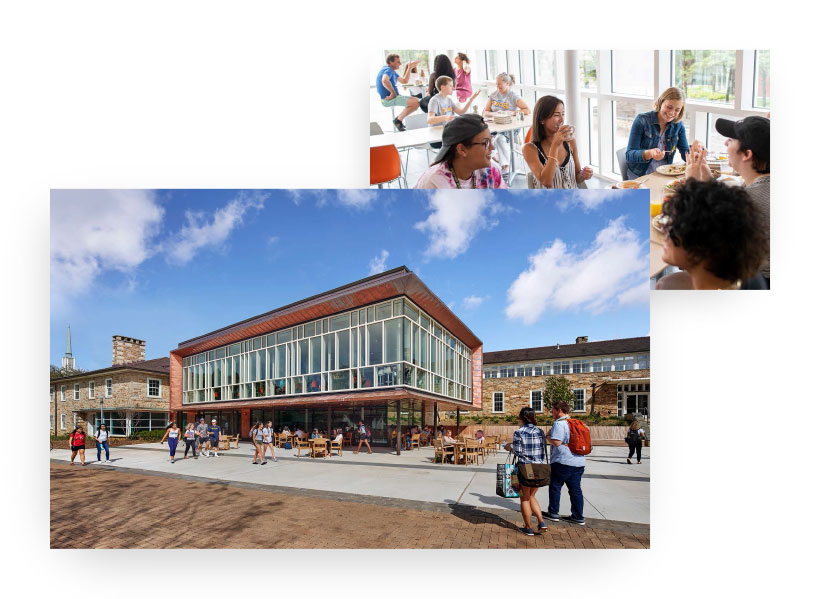 Students choose from sunlit, open dining with friends, a perfect cranny for a snack and study session, or a to-go meal from the Student Market. With selections that range from Mongolian stir-fry to burgers hot off the grill, students have variety and quality at their fingertips. Even students with specific dietary needs can enjoy international cuisines, along with vegetarian, vegan, and kosher options.
The new dining hall supports local producers and sustainable food suppliers, and faculty, staff, and students choose from plenty of fresh, homegrown food. In addition to sourcing environmentally friendly food, the new dining hall includes a composter and storage for cooking grease that creates bio-diesel that can be reused for other purposes.
In addition to providing for our students' physical health, the renovation of Mary Fisher also centralizes and prioritizes mental health services in the new counseling center. Supporting the emotional well-being of our students is essential.
Enhanced Community-Focused Programming
Placing the Student Engagement Office at the center of our campus is part of our commitment to our students and putting their experience first. A new location and a new space mean the student engagement team members are having a more extensive, positive impact on our community's culture.
Same Spirit. New Determination.
Same Spirit.
New Determination.
Stand with us. Stand for us.