Scholarships provide a vital source of support to enhance and enrich the lives of our students. They reward those students who work hard and dream big. They provide access to a transformational education to those who deserve it but would otherwise be unable to afford it. Scholarships allow students to focus on the reason they came to Goucher—to learn, to explore, to challenge themselves and the world around them—and eases some of the financial stress that can sometimes be a barrier to student retention and success. By establishing a new scholarship or contributing to existing endowed scholarships, you are making a Goucher education accessible to future students.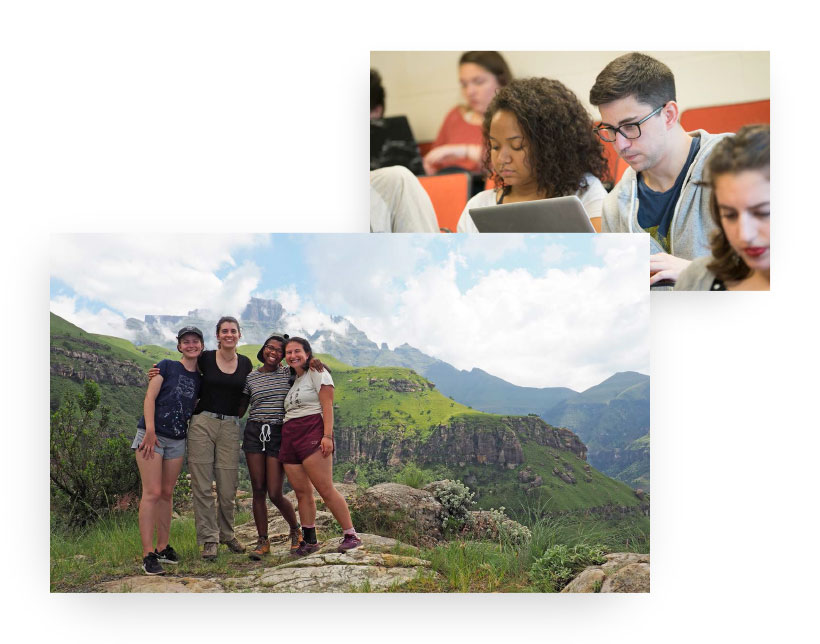 The Tisch Fellow in Post-Baccalaureate Premedical Program
The Tisch Fellow in Post-Baccalaureate Premedical Program (PBPM) was established by Andrew H. and Ann R. Tisch, P'19 to provide one fellowship in each academic year beginning in September 2021 to an outstanding student enrolled in the Post-Baccalaureate Premedical Program. The purpose of this fellowship is to provide support to students who have financial need and to support Goucher's goal of promoting a diverse student body, which is key to its educational mission. Each applicant's qualifications will be considered on an individual basis.
The Goldsmith Scholarship in Business
The Goldsmith Scholarship in Business was established in 2020 by Beth Himmelstein Goldsmith '72, M.Ed. '73 to provide scholarships for students enrolled in the new 4+1 dual degree program with the Johns Hopkins Carey Business School. The scholarship helps recruit talented students from underrepresented populations to increase representation by these groups in the business world. Armed with the solid foundation and skills gained through their education at Goucher and Johns Hopkins, the recipients will be emblematic of Goucher College's commitment to global education, innovation, and social justice.
The Bouis-Peake Women in STEM Scholarship
The Bouis-Peake Women in STEM Scholarship was established in 2020 by the Barbara Peake Trust to provide scholarships to undergraduate female students pursuing a major and, ultimately a career, in the sciences, technology, engineering, or math (STEM) fields with proven academic excellence.
I am unsure whether I want to pursue a career in dance, psychology, or both. Ideally, I would love to study cognitive or social psychology while also being a choreographer. For now, thanks to the support of the scholarship, I am continuing to focus on finding my niche in the world.
Major: Dance and Psychology
Sophia L. Kurek '13 Memorial Scholarship Recipient
My career goal after graduation is to be an actor, film critic, videographer, and photographer. Your scholarship allows me to focus on my studies and not the financial burden, so thank you for your generosity.
Major: Communication & Media Studies
The Mary Siddall Logan '46 Scholarship Recipient
scholarship funds established since the launch of the campaign
of our students receive some type of financial aid
students awarded scholarships and counting
Same Spirit. New Determination.
Same Spirit.
New Determination.
Support students today and support their dreams of tomorrow—and the future of Goucher. Support Goucher scholarships.