Creating a New Home for the Sciences
Known for our top rankings as a liberal arts college that teaches critical and innovative thinking through intentional experience and exposure, Goucher's core mission honors a tradition of excellence in the sciences. This proud legacy represents one of several driving forces behind our campaign, which features a new Science Research Center (SRC) building. This new facility will offer state-of-the-art capabilities for our Chemistry, Biology, Environmental Science, and Health Science programs. Building, renovating, and modernizing the health sciences laboratory, training, and research facilities will allow Goucher to attract and retain gifted students and faculty, and provide the appropriate space and technology devoted to scientific inquiry and exploration. Students and faculty will have the finest facilities commensurate with an institution known for delivering an outstanding undergraduate and Post-Baccalaureate Premedical education.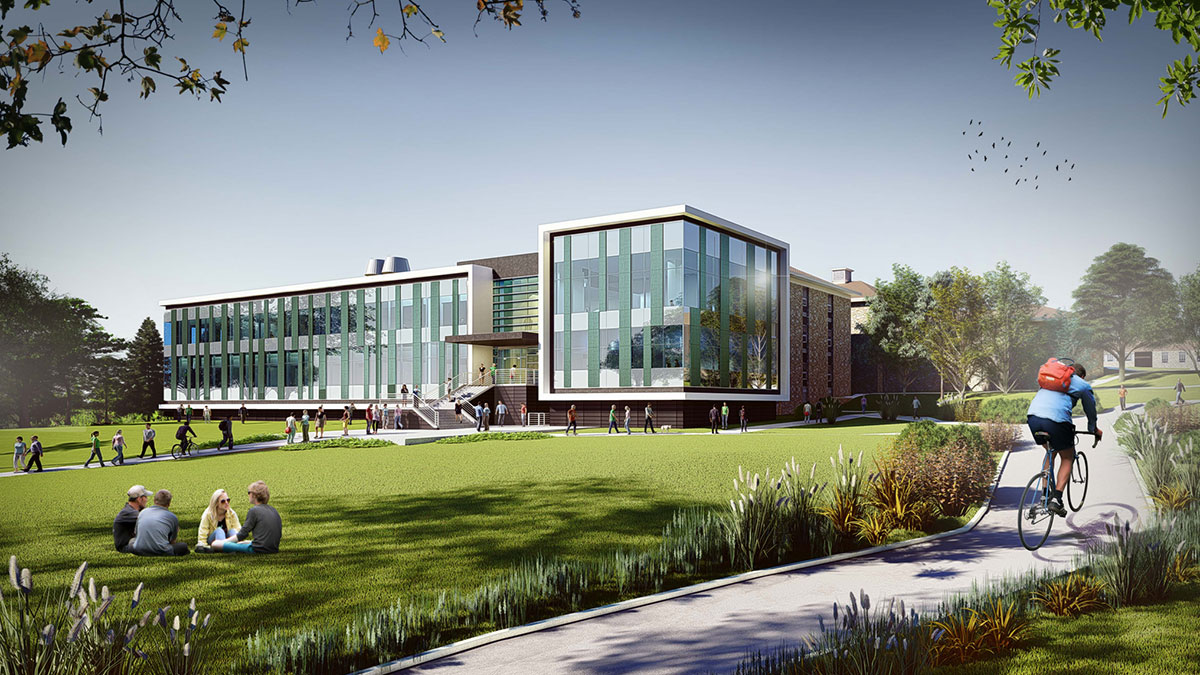 We were the first college in the country to teach medically related sciences to women and are among the top colleges in sending women to doctoral programs in the sciences. Our alumnae/i and their work have been at the forefront of medical achievements such as tuberculous testing, reproductive health, insulin development, and AIDS testing, all while breaking barriers as female firsts in their fields. As a premier institution, we remain committed to educating the next generation of visionaries and medical professionals.
The SRC will be a modern 35,000-square foot addition to the Hoffberger Science Building, with state-of-the-art labs and learning spaces. Enough room to accommodate all of our students and their passions.
Labs featuring bright, open designs increase the exchange of ideas and dialogue between students and faculty and encourage efficient use of shared, upgraded resources. Not to mention the large windows and sunlit halls will make for an inviting place for students, prospective students, scholars, and visitors alike.
Flexible teaching labs with varying configurations designed for specific pedagogies or courses add to continued curricular innovation. We recognize our strengths lie not just in the sciences but in all of the liberal arts. The SRC will fuel the discoveries of today and keep up with the interdisciplinary innovations of the future.
Goucher advances innovation and sparks students' interest in STEM fields with our Summer Science Research Program thanks to the support of loyal donors.
Same Spirit. New Determination.
Same Spirit.
New Determination.
Building on the success of Goucher graduates who have forged new frontiers in the sciences, join us today by making a gift that will transform the education for future generations of Goucher students and pave the way for their discoveries.
Post-baccalaureate Premedical Program
100% acceptance rate into medical school over past 10 years
Preparing students to study at the most prestigious medical schools across the country for more than three decades
Goucher's Summer Science Research Program has offered 10-20 undergraduate students the opportunity to work closely with faculty members for more than 20 years.
Science-based
Majors and Minors
106 Students majoring in science
36 Students minoring in science
77 Science-based classes offered every year, on average